Daihonzan Nanzen-ji Temple: A must-see amazing Kyoto view from Sanmon gate
Big pillars supporting Sanmon Gate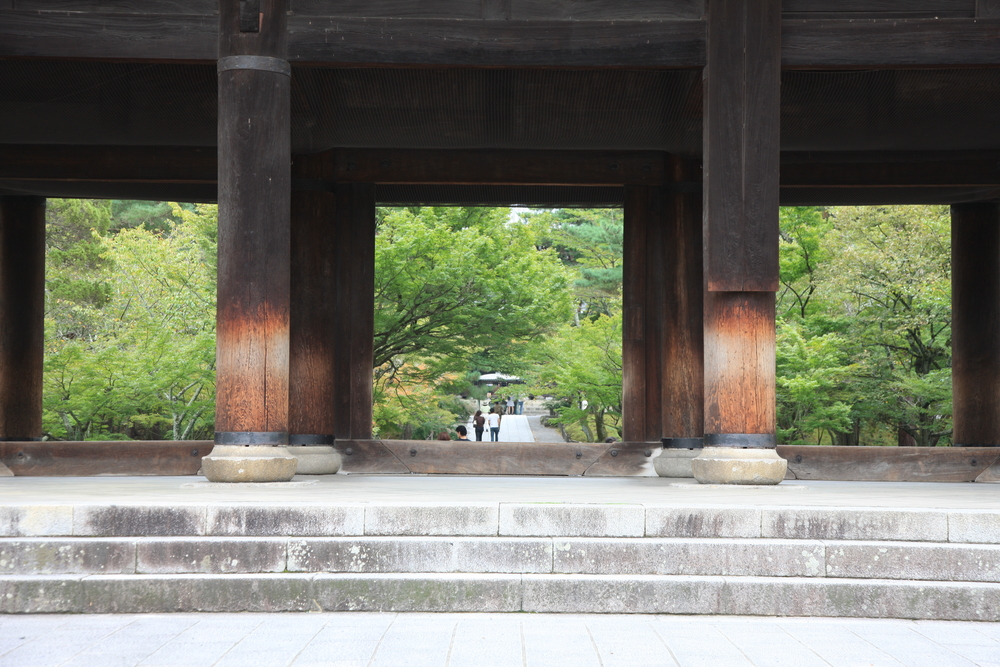 Located in Sakyo-ku, Nanzen-ji Temple is one of Kyoto's most high-standing temples. Many tourists and students come to visit, filling the area all year round.
Climb up the majestic stone steps of Sanmon gate, and the beautiful scenery will unfold in front of you.
The pillars look like a frame, making the whole scene look like a magnificent picture that changes as the seasons pass.
Scenery from above Sanmon Gate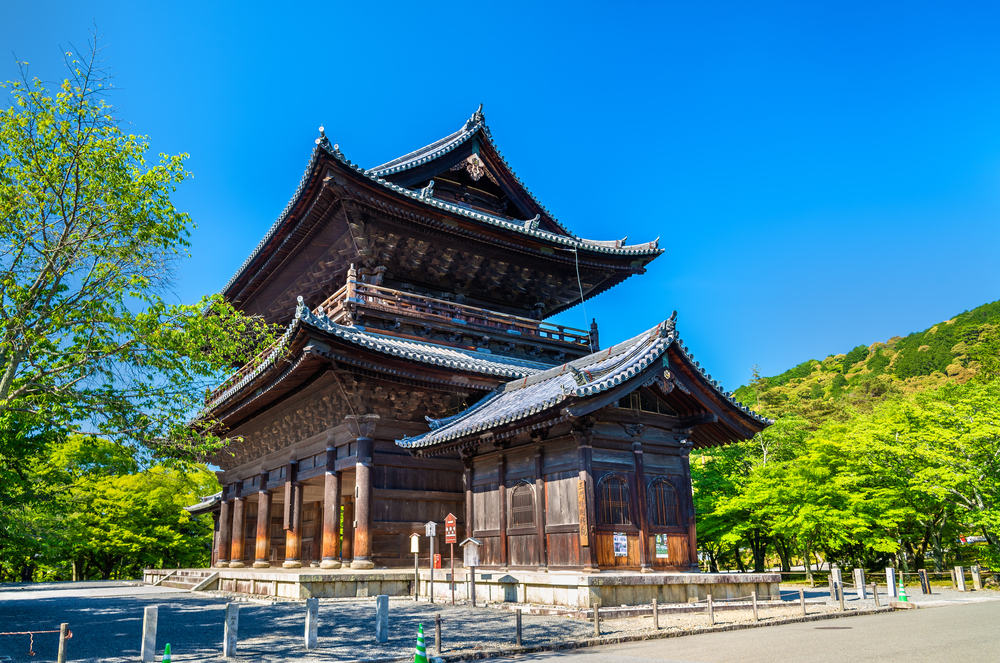 If you climb up to the tower above the Sanmon Gate, you will be able to see the whole city of Kyoto far beyond the trees.
There is a famous Kabuki quote that goes, "what a view, what a view" which truly fits this scene, especially during the sakura and autumn seasons.
Make sure to walk around the tower, so you can see all the different angles of the beautiful scenery.
Stone pavings creating an emotional scene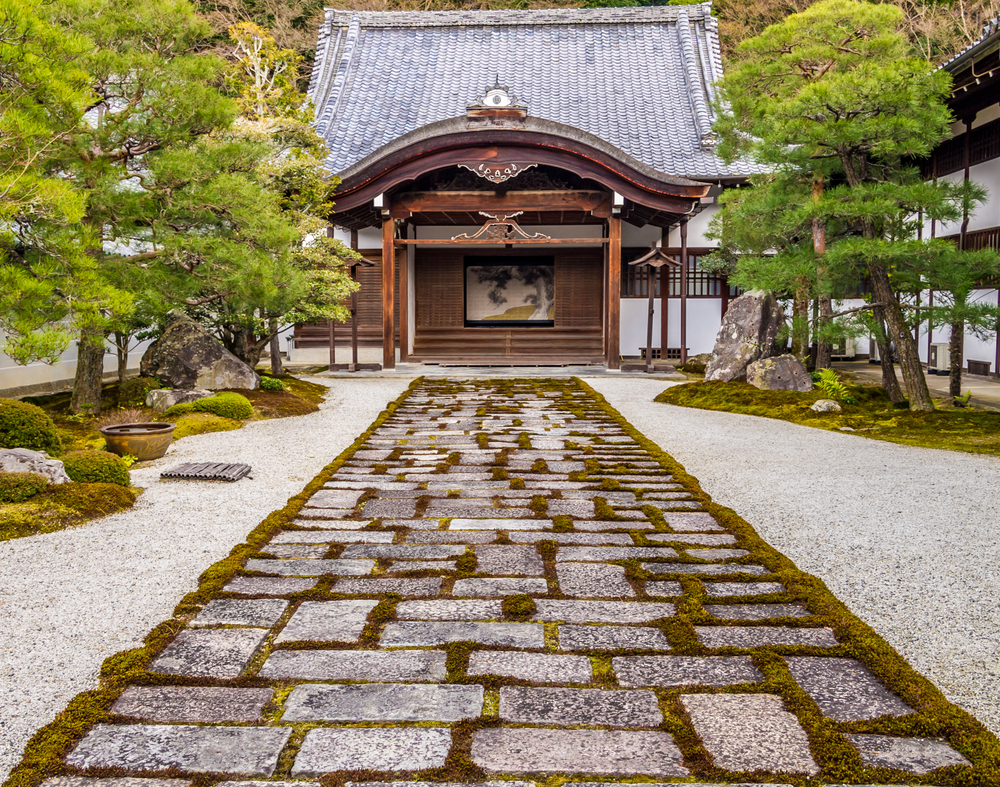 The large entrance space on the left side of the main building is magnificent.
The stone paving and moss, beautiful trees and stones on either side, and paintings in front of the entrance all add to the magnificent scenery.
On the left side of the entrance is a shoin-style building, leading to the Hojo Garden.
A garden symbolizing the beginning of Edo period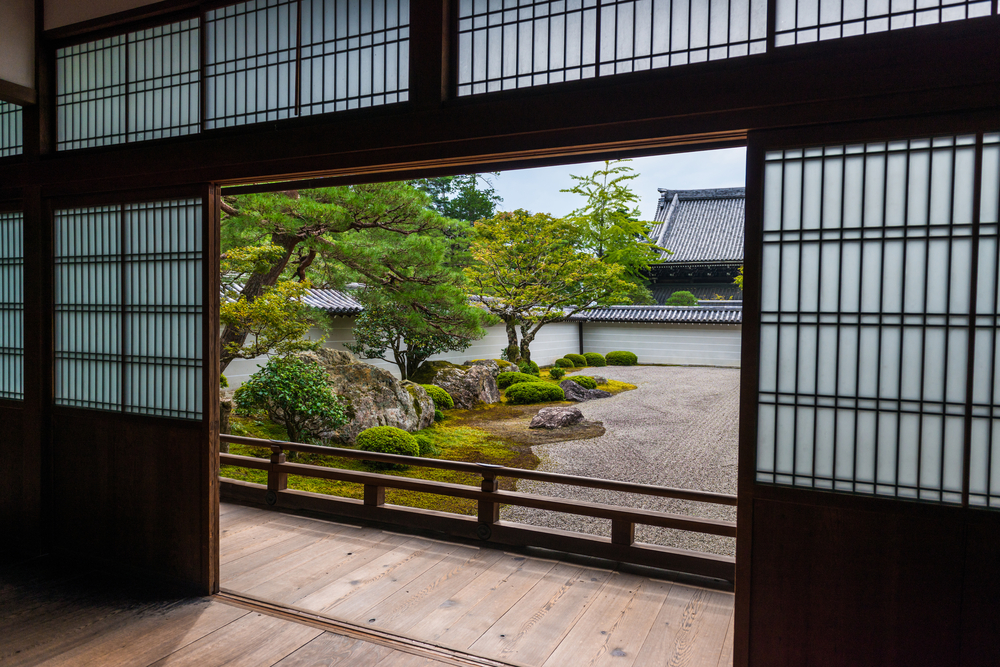 The karesansui garden (Japanese rock garden) is said to be designed by Kobori Masakazu.
It is also known as the "Toranoko-watashi", because it is expressing a tiger passing by with 3 of its cubs. Try imagining this scene while you delve into the refreshing and calming atmosphere.
An impressive arch inside Nanzen-ji Temple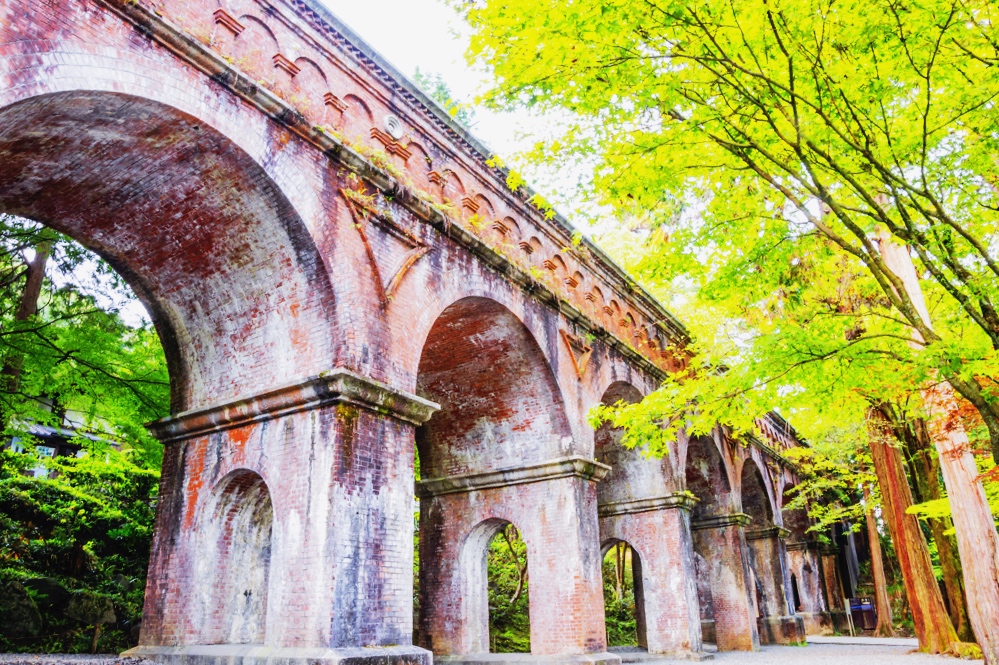 The inside of Nanzenmon Temple is very spacious and full of nature. In the summer, it is colored with the lively plants and trees.
The brick-layered Suiro-kaku is said to have been inspired by ancient Roman aqueducts.
The red color of the bricks and green of nature create a beautiful contrast every season.
| | |
| --- | --- |
| Name of the facility | Daihonzan Nanzen-ji Temple |
| Address | Fukuchimachi, Nanzen-ji, Sakyo-ku, Kyoto 606-8435 |
| Nearest station | 10 minutes from "Keage" station (Subway Tozai Line) |
| URL | http://nanzen.net/ |
| Nearest bus stop | 10 minutes from "Nanzen-ji Eikando-michi" bus stop (city bus) |
| Business hours | Visiting hours March to November 8:40am~5:00pm / December to February 8:40am~4:30pm ※Enter at least 20 minutes before closing |
| Admission fee | (Sanmon gate) Standard 500 yen, high-school students 400 yen, elementary and junior-high students 300yen / (Hojo gate) Standard 500 yen, high-school students 400 yen, elementary and junior-high students 300yen / (Nanzen-in) Standard 300 yen, high-school students 250 yen, elementary and junior-high students 150yen |