"Choya": a experience based shop dedicated to Japanese plums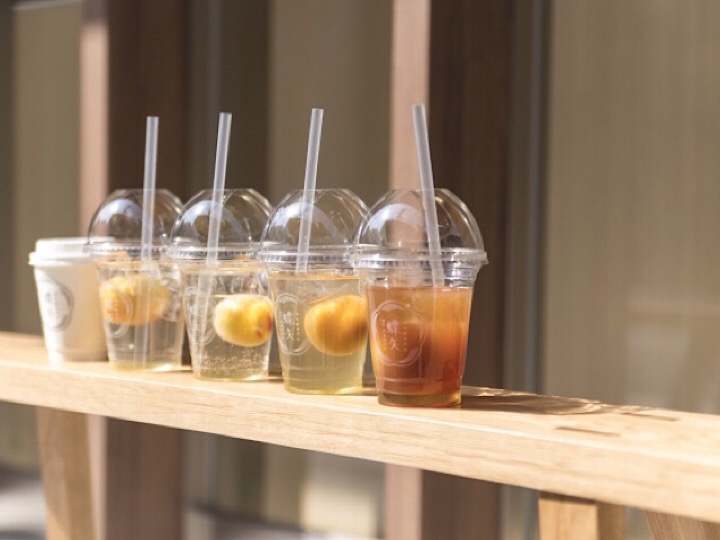 Traditional culture passed down in Kyoto
For decades, Choya Umeshu Co., along with local plum farmers, has passed down the Japanese culture of ume plums. "Choya" is a new kind of shop where visitors can experience this traditional culture first hand. You can choose from over 100 types of combinations to create your very own Umeshu (plum wine) or Ume syrup. The white interior is refreshing yet encompassing the culture of Kyoto.
It all starts from one plum
Choose from a variety of plums, sugar, and liquor to create your one-and-only Umeshu or Ume syrup. The company uses its own unique freezing technique to preserve the plums so that visitors can experience the brewing making all year. You can taste-test the various ume-syrups...use your taste-buds and be creative!
Kompeito: a cute addition to the mix
Take the stem off of the plums and pour sugar and plums together into the bottle. Kompeito sweets will add an extra fee but they will be a cute addition to your syrup. The Ume experts will give you advice while you work on your original recipe.
Exciting displays
On the walls are info-graphics that explain how the ume syrup will brew in the bottle after you bring it home. From day one to a week later, you will be able to see how the sugar and plum change color. Seeing the process visually will make you excited about the final product!
Awesome ume drink!
The store provides Ume drinks to-go as well. The cold drinks are provided in soda, tea, and Japanese tea flavors, and all have whole plums in them. The diverse lineup of drinks and refreshing taste is sure to bring you back for a second try!
| | |
| --- | --- |
| Name of the facility | Ume Liqueur Store "Choya" |
| Address | CASA ALA MODE ROKKAKU 1F, 108 Higashi-iru Horinogami-cho, Sakaemachi, Rokkaku-dori, Nakagyo-ku, Kyoto |
| Nearest station | 7 minutes from Karasuma Oike Station (Subway Karasuma Line) / 10 minutes from Karasuma Oike Station (Hankyu Kyoto line) / 10 minutes from Shijo station (Subway Karasuma Line) |
| URL | https://www.choyaume.jp/ |
| Business hours | 11:00am-7:00pm |
| Regular holiday | Irregular holidays (closed around New Years and Bon break) |
| Admission fee | 【Choya Ume Kit: make your own ume drink】 S size (1 drink) 1,000yen~ / M size (3 drinks) 2,000yen~ / L size (6 drinks) 3,000yen~ 【Take-out drinks】 Hot 400円 / Cold 500円 |
| Remarks | Please do not take outside of Japan as the liquid may spill out. *The syrup will be ready in a week and the umeshu (plum wine) within a month. |