Feel the beautiful Japanese tradition through Kyomatoigashi cacoto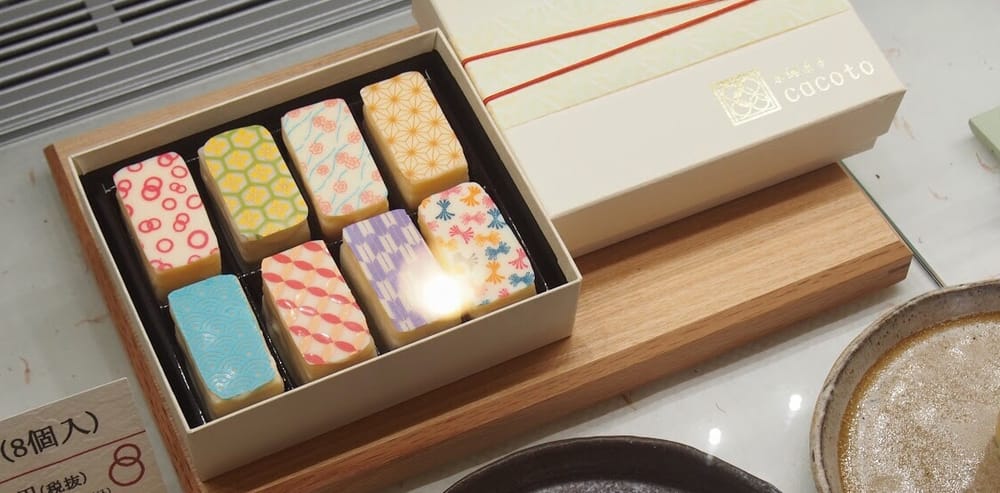 Small patisserie in the town
You can see a small and pastel-colored patisserie on the way from subway Gojo station. The cute appearance using tiles attracts people to stop by and look. Wonderful sweets are waiting for you in the store.
Petit cake with colorful kimono patterns
Petit cakes with Japanese traditional pattern are lined up in the showcase. You can enjoy looking at the delicate patterns painted on the white chocolate. Various kinds of cakes are sold such as a cake with oranges and nuts inside, and the cake with Macha and sweet red beans. It is recommended to eat petit cakes to take home and eat in your hotel or shinkansen while traveling.
The message behind the Kicchomonyo pattern
The patterns on the petit cakes are a traditional Japanese pattern, the Kicchomonyo. The Kicchomonyo is a pattern that wishes for your children's safety and health. Many people buy this petit cake not only because it tasted great but also for the reasons behind its pattern. Sometimes the petit cake can be sold out, so if you are interested, we advise you to visit during the mornings.
Best souvenir "Kyo kotoba"
Japanese traditional sweets are also sold in a cute tetora-shaped package. The products sold here have a kind and sweet taste which is different from what you may buy at the supermarket or convenience store.
Favorable taste for everyone
Jelly (left) Macha chocolate (upper-right) sweet red beans×macha (down-right) is enjoyable for everyone with their soft texture. It is definitely a great choice for people who rarely eat Japanese sweets. The sweet red bean × macha is also recommended for people who are not a great fan of the sweet red bean as the bean here is not as sweet as other red beans that are usually eaten.
| | |
| --- | --- |
| Name of the facility | Kyomatoi sweets cacoto |
| Address | 553-5 Oe-cho Matsubara Kudaru Higashi-no-Touin-dori Shimogyo-ku Kyoto |
| Tell | 075-351-2946 |
| Nearest station | 4 minutes on foot from Kyoto city subway Karasuma line Gojo station exit 1 |
| URL | http://www.kyomatoi-cacoto.com/index.html |
| Nearest bus stop | City bus 「Karasuma matsubara」 |
| Business hours | 10:00~18:00 |
| Regular holiday | Every Tuesday, irregular holidays (detail information is on our official website) |