"Kokoyanen" a restaurant where you can eat Kyoto-style Monja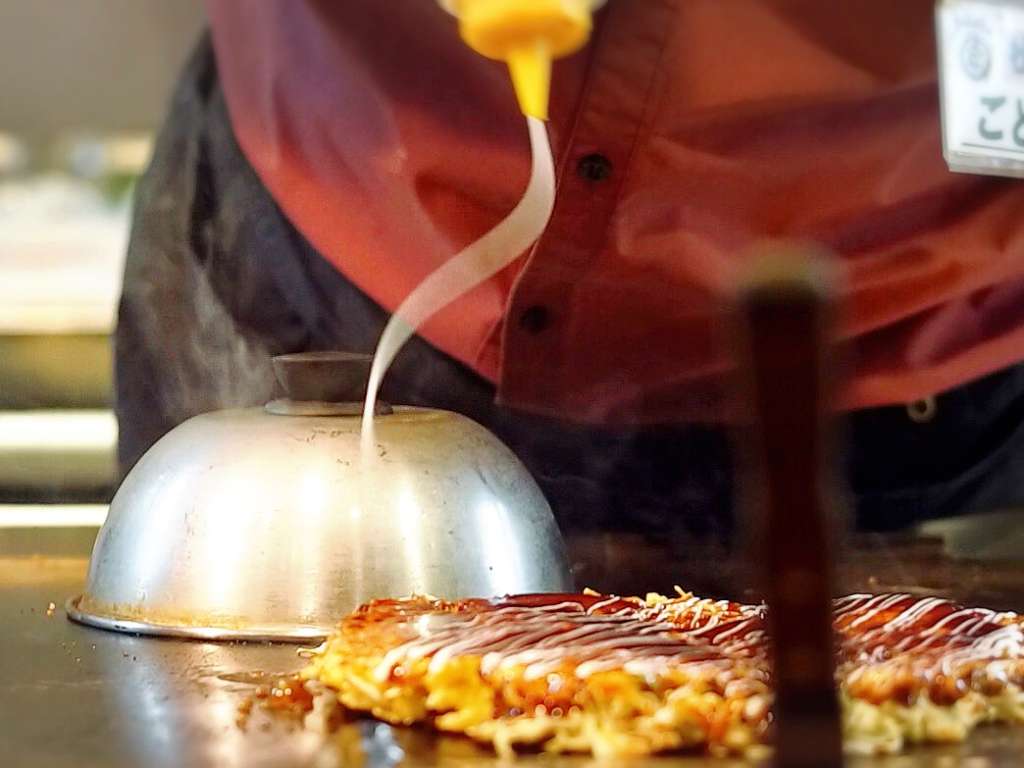 Okonomiyaki restaurant with a nostalgic taste of ealier times
"Kokoyanen Shijo Omiya store" has an abundant menu including Okonomiyaki. When entering the store you immediately catch sight of the large iron plate where skilled staff diligently​ make Okonomiyaki. The store has a warm atmosphere covered by an aromatic fragrance and the enthusiasm of the staff.
One of the few restaurants in Kyoto where you can eat Monjayaki (savoury pancake with various fillings)
The "Kyoto Style Salt Monja" is a specialty different from Okonomiyaki. It has a light salty taste different from the general Monja which tastes of sauce. If you eat Monja for the first time you don't have to worry as the staff will make it right in front of you. It is also fun to watch the cooking process and the staff handling the spatula.
You will be unable to take your eyes from the Okonomiyaki made on a large iron plate
Making Okonomiyaki looks easy at first sight but it is said that the cook's technique is required precisely because it is a simple process. The way of cutting the cabbage, mixing the dough, the temperature of the iron plate and so on ... in order to make a perfect Okonomiyaki you even have to concentrate on the details. You can eat the Okonomiyaki with a particular sauce of natural flavor made of organic vegetables as the main ingredients.
Soft and very thick Yakisoba you cannot enjoy elsewhere!
Something else you certainly want to eat is Yakisoba. Our specialty are the originally developed very thick raw noodles which are boiled after receiving the order and grilled afterwards. The soft noodles have a sticky texture and wholly absorb the salty-sweet​ sauce.
Just as expected "Kokoyanen" is the right place for Okonomiyaki
Kokoyanen seeks a good taste rather than efficieny and spares no cost and effort. It is the ideal store for enjoying a delicious meal with everyone around the iron plate.
| | |
| --- | --- |
| Name of the facility | Okonomiyaki Wa Kokoyanen Shijo Omiya store |
| Address | 135 Nishiki Omiya-cho, Omiya-dori Shijo-agaru, Nakagyo Ward, Kyoto City |
| Tell | 075-821-1486 |
| Nearest station | 1 minute walk from exit no. 3 of Hankyu Kyoto Line "Omiya Station" / 1 minute walk from Keifuku Arashiyama Main Line "Shijo-Omiya Station" |
| URL | https://www.cocoyanen.jp/ |
| Nearest bus stop | Shijo Omiya |
| Business hours | Weekdays 11:30-15:00 (Last order: 14:30) 17:00-24:00 (Last order: 23:00) / Saturdays/Sundays/National holidays 11:30-24:00 (Last order: 23:00) |
| Regular holiday | Open throughout the year |