Travel back in time to the Capital of the Heian Period! Heian Jingu Shrine, where scenery from 1200 years ago reveals itself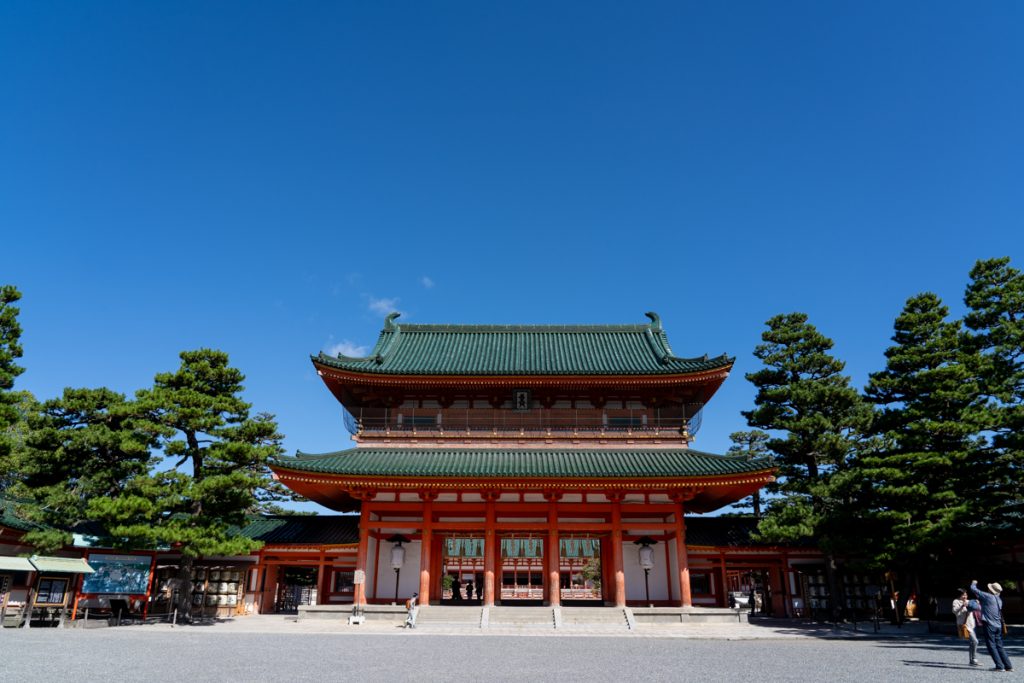 Reviving the Heian Capital of the Heian Period
Heian Jingu Shrine was built in 1895 to commemorate the 1100 years since Kyoto became the capital in 794. At the time the shrine was built, Kyoto had been devastated by the transfer of the capital city to Tokyo. Citizens of Kyoto who felt strong love for their own city rose up to build the Heian Jingu Shrine in the hope of reviving the city again. The vast grounds of the shrine, where the former Heian capital is reproduced on a scale of about 5/8ths of the original city, reveals scenery that is the same as it was about 1200 years ago.
The Biggest Torii Gate in Kyoto
The vermilion Otorii gate towering straight up toward the sky is truly a masterpiece, and has become a symbol of the area, welcome visitors on their way to Heian Jingu Shrine. When it was built in 1928 to commemorate the ascension of Emperor Showa to the throne, it was the largest torii gate in Japan.
Majestic Palace Architecture
The shrine building is constructed in the "Kyuden" palace architecture style, which, even within Japan, can only be seen here in the Heian Jingu Shrine. Since green roof tiles were only permitted to be used on buildings related to the Emperor, you can see just how prestigious this shrine was by the extravagant use of the tiles. Heian Jingu Shrine is designed so that when you step inside, you are unable to see any outside scenery at all. This creates a feeling of being sucked into a fantasy world.
The Vast Shin-en Garden at the Back of Heian Jingu Shrine
The garden, which skillfully incorporates water drawn from Lake Biwa into its vast grounds, is full of highlights. The scenery of the pond seen from the Taiheikaku bridge, which was relocated from inside the Kyoto Imperial Palace, is stunning. On sunny days, the surrounding scenery is reflected on the surface of the pond, delivering feelings of each season. Why not take some time to sit down on a bench and admire the seasonal flowers and trees?
The Kyoto Capital Remains Forever
Even as everything in the surrounding world changes as time goes by, Heian Jingu Shrine remains unchanged thanks to support from people passionate about Kyoto. It will continue to be a place where you can see the same scenery 30 or even 50 years later.
| | |
| --- | --- |
| Name of the facility | Heian Jingu Shrine |
| Address | 97 Nishitenno-cho, Okazaki, Sakyo-ku, Kyoto 606-8341 |
| Tell | 075-761-0221 |
| Nearest station | 10 minutes' walk from Higashiyama Station on the Subway Tozai Line |
| URL | http://www.heianjingu.or.jp/ |
| Nearest bus stop | 5 minutes' walk from Okazaki Koen Bijutsukan・ Heian Jingu Mae Bus Stop on the Kyoto City Bus |
| Business hours | March to September: Main Shrine: 06:00-18:00; Garden: 08:30-17:30. February/October: Main Shrine: 06:00-17:30; Garden: 08:30-17:00. November to January: Main Shrine: 06:00-17:00; Garden: 08:30-16:30 |
| Regular holiday | Open everyday |
| Admission fee | Admission to the main shrine: Free. Admission to the garden: Adults: 600 yen, Children: 300 yen |