A dragon flies in the center of Gion! Kenninji Temple: the oldest Zen temple in Kyoto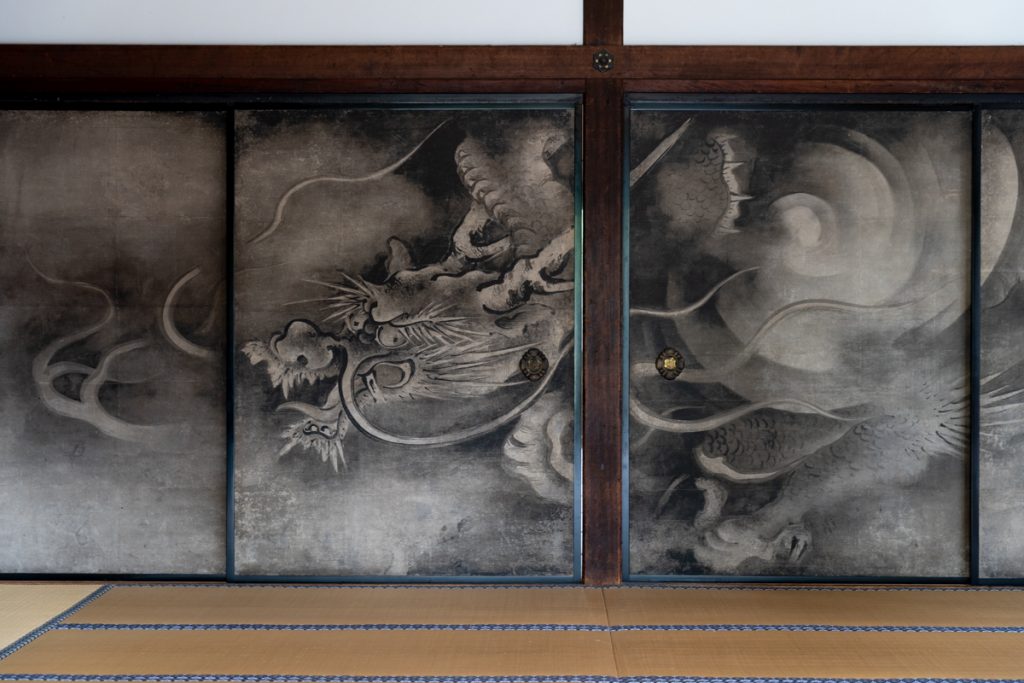 A temple just like an art museum
Kenninji Temple holds many art works from famous painters who played active roles in history. While the artworks on display are replicas made to look like the original works, they are all stunning works created using high quality techniques and materials and are definitely worth seeing. Another highlight is the garden, which was carefully devised for the enjoyment of the viewer. Here we introduce art works and gardens that can be seen at Kenninji Temple for you to enjoy using your own sensitivity. Photography is allowed in all areas in Kenninji Temple, so it is a great place to make wonderful memories of your travels in Kyoto!
Wind God and Thunder God Screen Painting
The National Treasure "Fujin Raijin Zu (Wind God and Thunder God Folding Screen)" is presumed to be a work by Sotatsu Tawaraya, an active artist in the Edo period, due to the way background space is left, and the appearance of the clouds drawn with ink and silver. It is said that the reason for leaving background space and parts where the picture is completely cut out is to invite the viewers to find an extra something for themselves. The actual art work is kept at the Kyoto National Museum.
The Two Dragons
This picture of two dragons was painted on the ceiling of Nengedo Hall in 2002 to commemorate the 800th anniversary of the founding of Kenninji Temple. If you looking at the dragon on your right as you walk towards the exit, it appears as if the dragon's face is following you and you will feel like you are being watched over by it. This may be because in Japan dragons are believed to rule the water and are also worshiped because they protect people from disasters.
Daiouen Stone Garden
A total of 15 stones and white stones are placed in the garden in an arrangement that expressing water flowing from the left of the garden to the right. The intention behind this layout seems to be to encourage the viewer to look at the long flowing stream of water while superimposing it on their own life. The garden is large, and the scenery changes depending on where you see it from, meaning you will not get bored there. You might easily find yourself spending a couple of hours just sitting by the garden.
Cho'ontei Garden
This garden can be viewed from any angle. It is designed so that the viewers can find the most beautiful place for themselves, and observe the garden from there. It is also interesting to see that the spot you feel to be the most beautiful changes time to time. Stop by and cleanse your mind, and then stop at another place the next time you visit.
| | |
| --- | --- |
| Name of the facility | Kennin-ji Temple |
| Address | 584 Komatsu-cho, Shijokudaru,Yamatooji-dori, Higashiyama-ku, Kyoto 605-0811 |
| Tell | 075-561-6363 |
| Nearest station | 7 minutes' walk from Gion-Shijo Station on the Keihan Railway Main Line; 10 minutes' walk from Kawaramachi Station on the Hankyu Railway Main Line |
| URL | https://www.kenninji.jp/english/ |
| Nearest bus stop | 5 minutes' walk from Higashiyama Yasui Bus Stop; 7 minutes' walk from Minamiza-mae Bus Stop; 10 minutes' walk from Gion Bus Stop/Kiyomizu-michi Bus Stop on the Kyoto City Bus |
| Business hours | 10:00-17:00 |
| Regular holiday | Open everyday except: April 19th & 20th, June 4th & 5th, and other irregular ceremonial days |
| Admission fee | Adults: 500 yen, Middle/high school students: 300 yen, Elementary School Students: 200 yen |
| Remarks | This information is up to date as of November, 2019. |