Ninnaji, The great Temple Guarded by the Kongourikishi Statue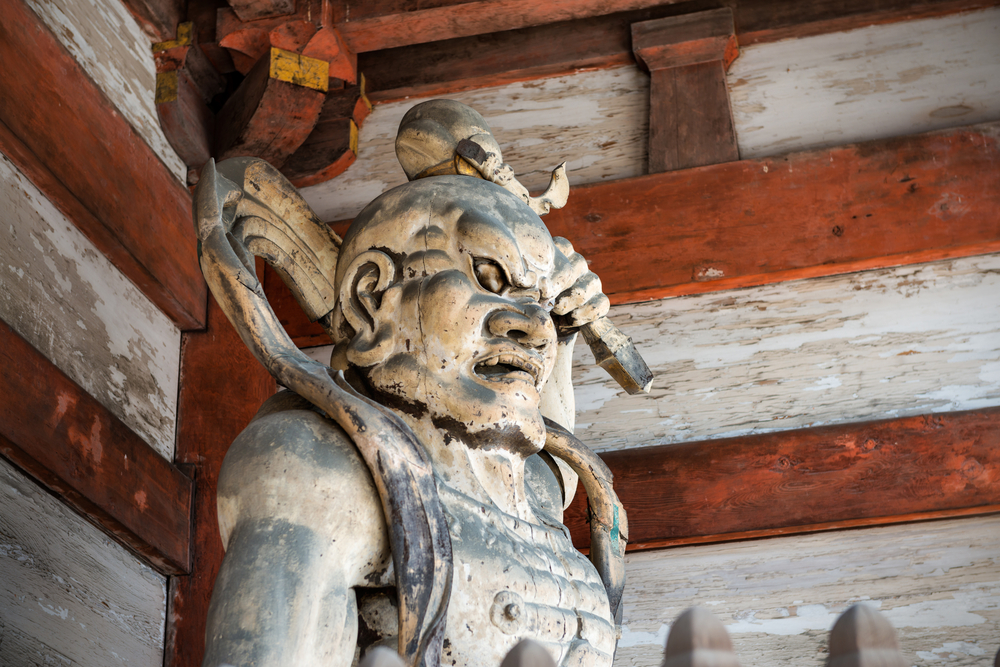 Experience the cultural treasure of Japan
At the entrance of Ninnaji, is Niomon. It is one of Japan's important cultural properties and is one of Japan's 3 major gates. It can be seen from the nearest bus stop, Omuroninnaji. On the two sides of the gate are two Kongourikishizou statues. This Niomon is named from these statues as the Ni(two)o(king) are guarding the gate.
The Guardians of the Gate, Agyo and Ungyo
These statues that stand on the side of the gate protect enemies from entering Ninnaji. These statues each have a name and also have different expressions on their faces. Agyo on the right, expresses anger, which can be easily seen on the outside, while Ungyo expresses anger on the inside.
Gojunoto (Five-story pagoda) from the northern garden
The Gojunoto can be seen shortly after walking past the Niomon. The Gojunoto is more than 30m tall and all of the roofs are the same size, which is a characteristic of buildings from the Edo era. The orchids in the fall, and the snow in the winter also add an extra excitement to the scenery.
Gojunoto from the Southern Garden
The Gojunoto can be enjoyed from nearby, but looking at the Gojunoto from a distance from the southern garden is also a great way of enjoying the beautiful scenery. Enjoying the Gojunoto from a distance with the neatly cared Japanese garden is a great way of relaxing your body from a long walk around the grounds of Ninnaji.
The Garden of Tranquility
How about spending your next time at Kyoto in the quiet and peaceful ground of Ninnaji? Ninnaji also changes greatly each season. Even if you have visited Ninnaji before, how about visiting again?
| | |
| --- | --- |
| Name of the facility | Ninnaji |
| Address | Kyoto Kyotoshi Ukyoku Omuroouchi33 |
| Tell | 075-461-1155 |
| Nearest station | Use the Sagano Line from JR Kyoto Station from terminal no. 31,32,33 to JR Enmachi Station. Take the no.26 bus for approximately 10 minutes to JR Hanazono Station. 15 Minutes walk or a 5 minutes ride by taxi from Hanazono Station. 3 minutes walk fromKitano Line Omuro Ninnaji Station. |
| URL | http://www.ninnaji.or.jp/index.html |
| Nearest bus stop | 【From JR Kyoto station】JR Bus : Takao・Keihoku Line approximately 40 minutes 230 Yen, City Bus : No.26 approximately 40 minutes 【From Sanjo Keihan】 City bus : No. 10, 59 approximately 40 minutes |
| Business hours | March~November 9:00~17:00 (Last entry:16:30), December~February 9:00~16:30 (Last entry 16:00) |
| Regular holiday | Open Everyday |
| Admission fee | Adults 500Yen, Elementary・Junior high-school students 300Yen |