Tenju-an: a garden full of life and water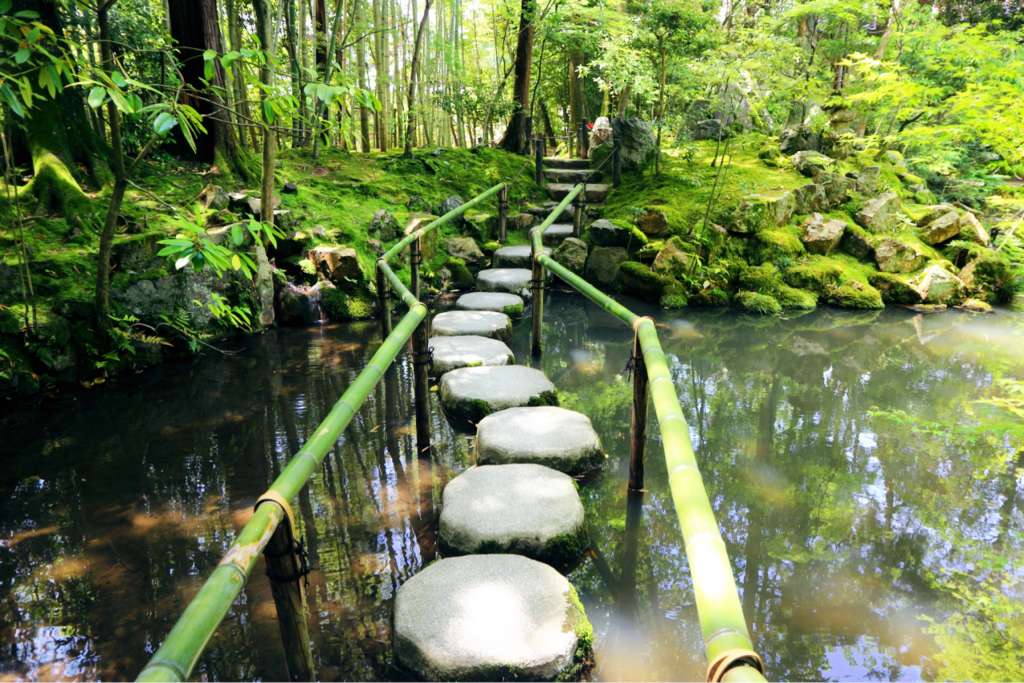 A garden full of Japanese beauty
Tenju-an is a garden famous for its maple trees. They are beautiful not only in the fall but also in the spring when the leaves are still green. The sunlight reflects against the green leaves, filling the whole garden with a warm and relaxing green light.
Japanese rock garden with beautiful natural contrast
The garden in front of the main building has modern stone pavings with geometric patterns, and past it is a traditional Japanese rock garden. The green of the maple trees and moss and the white of the sand and stone pavings creates an impressive color contrast. During the fall leaves season, the garden is full of guests - many of them enjoying the light-up in the evening as well.
Refreshing green nature
"Japanese stone gardens" are unique in that they don't have any water; the sand and stones artistically express water instead. The lake garden, on the other hand, is completely centered around the lake. Walking through the moss filled roof entrance and green garden will make you excited to get to the lake garden.
Beautiful water mirror
The lake is as clear as a mirror, pulling you into its beauty. Walk around the lake while looking at the reflection in the river sparkle. Carp swim in the lake with the trees and sky in the background, as sun rays fall on the surface: it is a magnificent view.
Relaxing bamboo forest
In the back is a small bamboo forest, where the soft wind is always gently moving the green leaves. Listening to the bamboo leaves rustle in the wind will make you forget the heat. You are sure to smile from the joy of finding a refreshing hiding place to avoid the summer weather.
| | |
| --- | --- |
| Name of the facility | Tenju-an, Zuiryusan Mountain |
| Address | 86−8 Nanzenji Fukuchicho, Sakyo-ku, Kyoto 606-8435 |
| Tell | 075-771-0744 |
| Business hours | Visiting hours 9:00am-5:00pm (4:30pm in the winter) |
| Admission fee | Standard 500yen, high-school students 400yen, elementary and junior-high students 300yen |