Toji; A World Heritage Site within a walking distance from Kyoto Station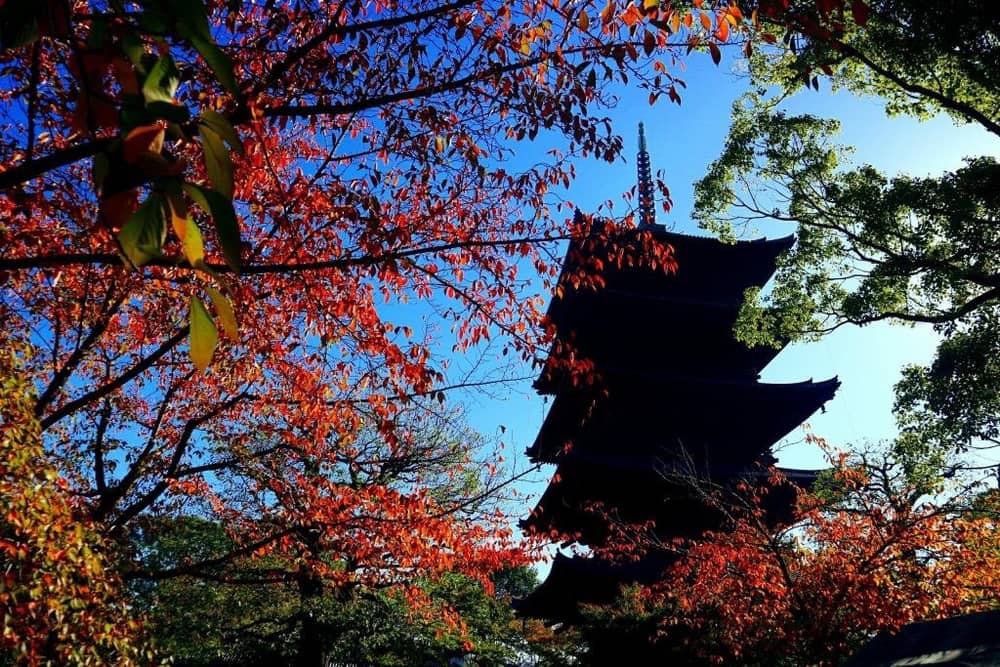 The great South Gate
Minamidaimon is a large, wooden gate located in the south of Toji. The large gate seems like it is inviting in not only locals but also many tourists as well.
The beautiful five-storied pagoda
This pagoda is considered to be one of the symbols of Kyoto. The beautiful view of this pagoda seems to represent the scenery of Kyoto.
The reflection on the "Hyoutan pond"
Cherry blossoms during spring, and azalea during summer blossoms by the Hyoutan lake. The beautiful combination of the seasonal natures and the pagoda reflecting on the pond entertains the visitors.
It's beautiful silhouette
The hight of the pagoda is 55 meters, which is the highest wooden building in Japan. Therefore, the large pagoda stands out in Kyoto; wherein there are not many skyscrapers in the town.
A must-visit location when visiting Kyoto
There are many more things to see in Toji. The halls aligned in the center of Toji, and the treasure storage and the Mieido, which is registered as National Treasure is also worth seeing in Toji. The five-storied pagoda can be considered as a symbol of Kyoto. The visitors who are visiting Kyoto must feel appealed with the beautiful view of Toji and the traditional city of Kyoto.
| | |
| --- | --- |
| Name of the facility | Toji |
| Address | 1 Kujocho, Minami Ward, Kyoto, Kyoto Prefecture 601-8473 |
| Tell | 075-691-3325 |
| Nearest station | 15 min. from Kyoto station (JR line)10 min. from Toji station (Kintetsu line) |
| URL | http://www.toji.or.jp |
| Nearest bus stop | Right by "Toji Higashimon Mae" bus stop (City bus) |
| Business hours | Reception hours 8:00-17:00 |
| Regular holiday | None |
| Remarks | Entrance reception closes 30 minutes prior to closing |